As things are resuming back to normal, companies are again facing challenges in managing their workforce. Many employees want to stick to the work-from-home model as they feel this is more advantageous. Whereas, there are people who desperately want to resume their in-office work to give a break to the two-long pandemic years. This is when the hybrid work model enters into the picture. Companies are literally going crazy for workforce management software solutions to provide better work experiences and overcome the challenges they come across.
Thriving in this new era of hybrid work is not as challenging as it seems to be. However, you need to be smart enough to understand the dos and don'ts for creating a successful hybrid work model. Fortunately, the WFM solutions have contributed a lot to pursuing the company's target and goals.
Market overview
According to Research and Markets survey, the workforce management software market in 2020 was USD 6.28 Billion. The figure is expected to reach USD 10.64 Billion by the year 2027. The CAGR around this period will be 7.8%.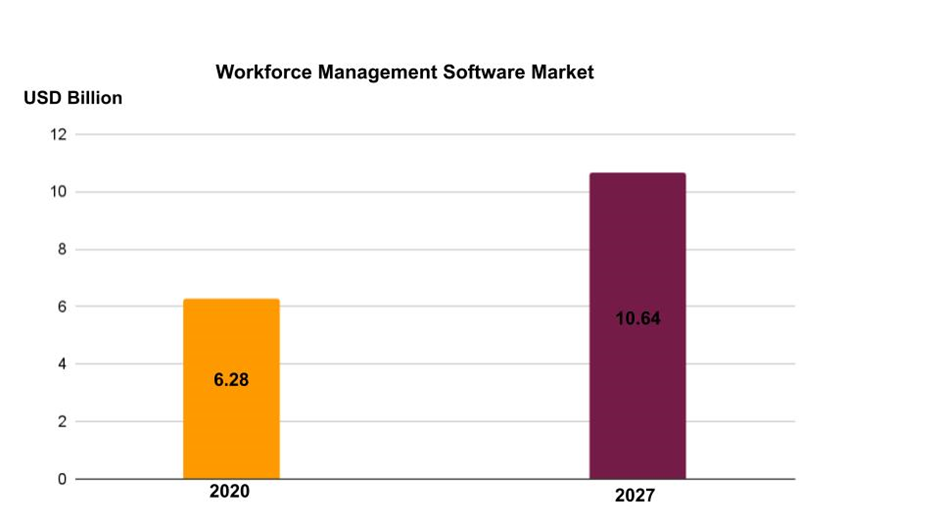 The graph shows how well the companies are leveraging the workforce management software product to speed up their operational efficiencies and improve the employee experiences.
Let us now focus on how the hybrid workplace model aids in magnifying employee experiences.
How hybrid workplace aids in improving employee experiences?
Flexible time off: You must understand that employees can perform their best when they have more control over their hours. Adding flexibility help the employees to concentrate more on their jobs as per their conveniences. They get flexible time offs and creates a routine as per their preferences.
For instance, they might have any personal job to do and thus require one day's leave. In the hybrid work model, employees have the flexibility to work from home whenever there are such scenarios and save the leaves for any emergency. The workforce management software solutions help a lot in managing the employees' timetables.
2. Fewer sick days: The hybrid work model even reduces the number of sick days an employee takes. We are almost habituated to this.
Not every sick leave is taken when you are not able to work completely. Some leaves are even taken when the employees are unable to reach the office for any circumstances. For example, ligament problems, stomach upset, etc. These are not categorized under serious health issues. In such cases, you can still continue your work if you have the opportunity to work from home.
Instead of taking sick leave, you can keep your business workflow consistent with your contributions. This highlights the hard work and puts the employees on recognition. You are actually making your employees feel great about the organization by allowing the work-from-home concept. It enhances the employee experience and, at the same time, does not hamper your business productivity.
3. Improved work-life and personal life balance: Amid the pandemic, employees had a great experience as they got the chance to maintain work-life and personal-life balance. Instead of asking your employees to resume office directly, you can run this hybrid work model so that employees find it easier to balance everything.
With a successful hybrid workforce strategy, employees can work in an in-office environment and can continue their work from home whenever they have any personal requirements. Adding such flexibility never disappoints the workforce. Rather, it motivates the employees and encourages them to stay engaged with the organization.
No doubt, this gives one strong reason to choose a hybrid over the remote workplace and in-office workplace. The rise in workforce management software market size shows the growing demand for this strategy.
4. Better performance: In the last two years, it has been evident that the remote work atmosphere contributes a lot to saving dollars for companies. Definitely, it is one of the significant advantages of the hybrid work model for the organization. Another perk associated with this is a better performance which indirectly has a great impact on employee experience.
The flexible schedule allows employees to focus more on their assigned work. No matter how busy the schedule is and how overloaded they are with their job, they can still deliver quality output just because they have the time to relax and freshen up their mind. When you perform better, it is likely to come under-recognition. This automatically boosts the employee experience, turning the team happier and satisfied.
Improve your employee experience with hybrid workplace
A hybrid workplace is a concept where employees get the flexibility to work from home and from the office. No matter what your choice, you can seek permission from your employer. Companies are shifting from one to another to thrive in this era –
from in-office environment to remote work environment and now back to the in-office environment. What are your thoughts?
Are you ready to create a hybrid work model for your employees? Don't miss out on strategy and implementing workforce management software solutions!